If you would like to order any of these candles, we gladly will do shipping or arrange a reasonable local pickup option for the Bangor Me area. I'm sorry our website does not currently have a shopping cart feature at this time. Please send us an email with the candles you want and you will receive an email back with full details of your order including a total with shipping added.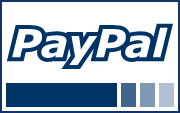 We accept :
* That means you have the convenience to still use your credit cards and checks and other forms of payments instantly over the internet, through a very safe and secure system! Get your candles faster!
Sign up today!
Click Here

Get and share infomation from us and others on our BLOG!:
Check out our blog! Our new and growing news group all about soy and gel candles! Join the community today. Click on "Blog" to the right. You can probibly find some answers to your soy questions in our posts. Please help us create a fun and informative group!
All general questions or comments by email:
Our Paypal email address below is to be used ONLY through the Paypal system (where it asks you who to send money to)
Do not send an email to this address, use the ones above.
We appreciate your business. Were sure you will be satisfied with our candles. If you have any questions, don't hesitate to ask. We do all types of special orders and bulk discounts on large orders! Think of us for your next occasion.